Blog

/
Marketing Personas: Engage Audiences Better
We all want to positively impact the world with our products and services. But how can you do that if you don't fully understand the people you are trying to help? This is where personas come in.
Personas are made-up representations of our target audience that provide us with great insight into things like motivations, goals, interests, challenges, and more.
Using personas helps us think like our target audience so we can build a brand, marketing, and engagement efforts that are forever interesting to the people we are trying to help.
In this blog, we'll dive deep into personas in the context of nonprofits.
Introducing the generic email>
Introducing the generic email #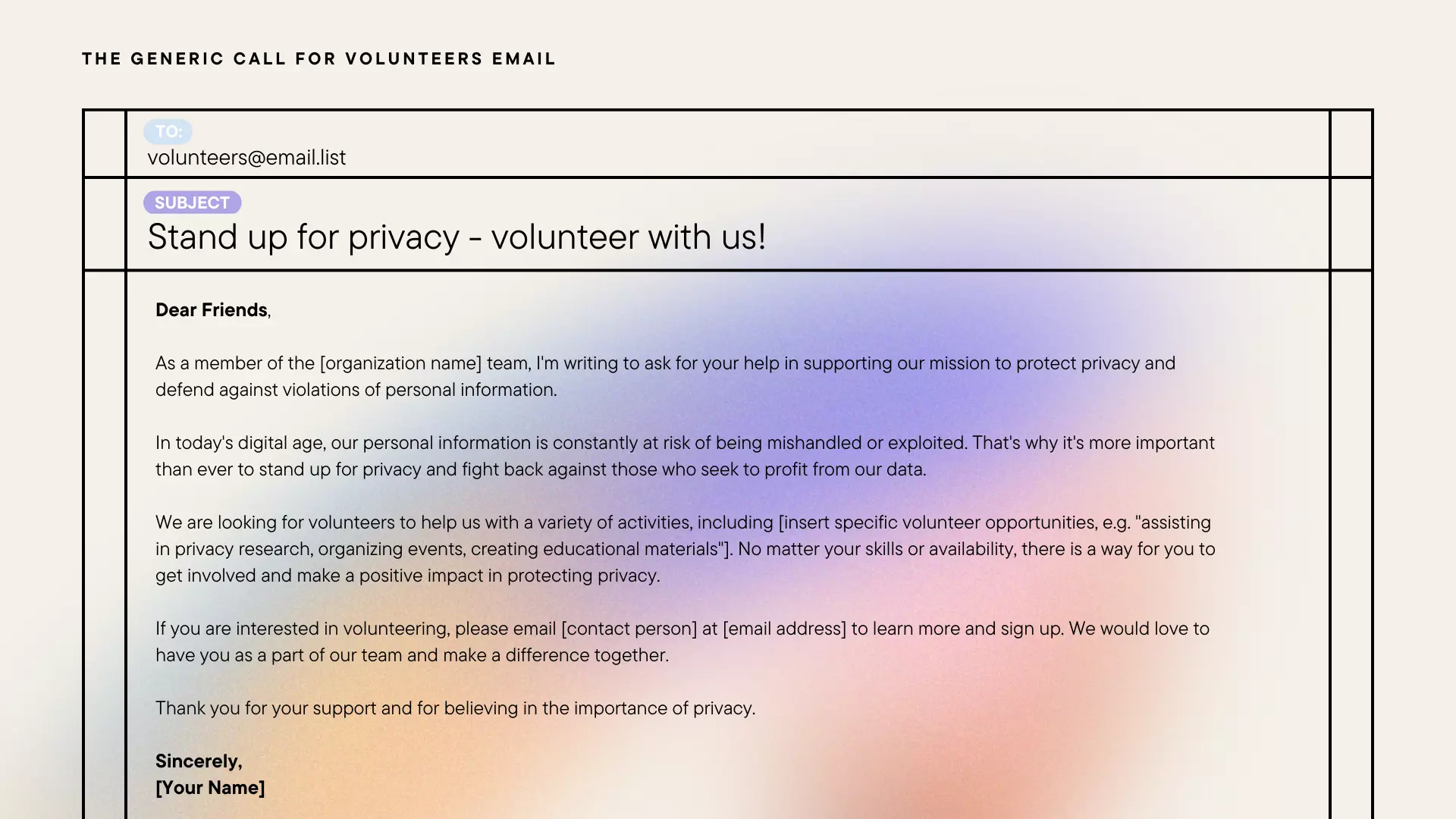 Nonprofits rely on the support of donors, volunteers, advocates, beneficiaries, and partners to achieve their mission.
We can see that this email is targeted towards volunteers - and that might be it.
It's a cookie-cutter email with no understanding of the motivations, challenges, pain points, interests, and goals of our potential volunteers. It is also the type of email that is too generic that it is not timely. It might work but it could have been better by defining our target volunteers even more specifically and is also timely.
For the context of this email, this email (and other emails just like these) was sent to students during the height of the COVID-19 pandemic in 2020. It was this time where lectures normally done in classrooms were forced to be delivered online. And so were exams.
Defining target audiences>
Defining target audiences #
Knowing who we're aiming to reach through our marketing efforts is super important in creating an effective plan. One of the keys to successful marketing is focusing some messages we send to a specific audience.
Some factors to think about while defining our intended audience are:
DEMOGRAPHIC CHARACTERISTICS
The most basic and the most general. Age, gender, income level, education level, and geographic location.
INTERESTS & VALUES
Let's think about what our audience likes and values. Also, what are their values? Being aware of what motivates them will help us craft messages that really speak to them.
NEEDS & CHALLENGES
We should also consider their needs and issues they're facing - how can our product or service help address these?
❗ It's important we AVOID making assumptions about our target audience. Taking the time to learn more about them through surveys, focus groups, and market research can help you create much more accurate personas than those pre-made ones you often see on marketing websites.
You'd be shocked at how unique they are!
Meet Samantha>
Meet Samantha #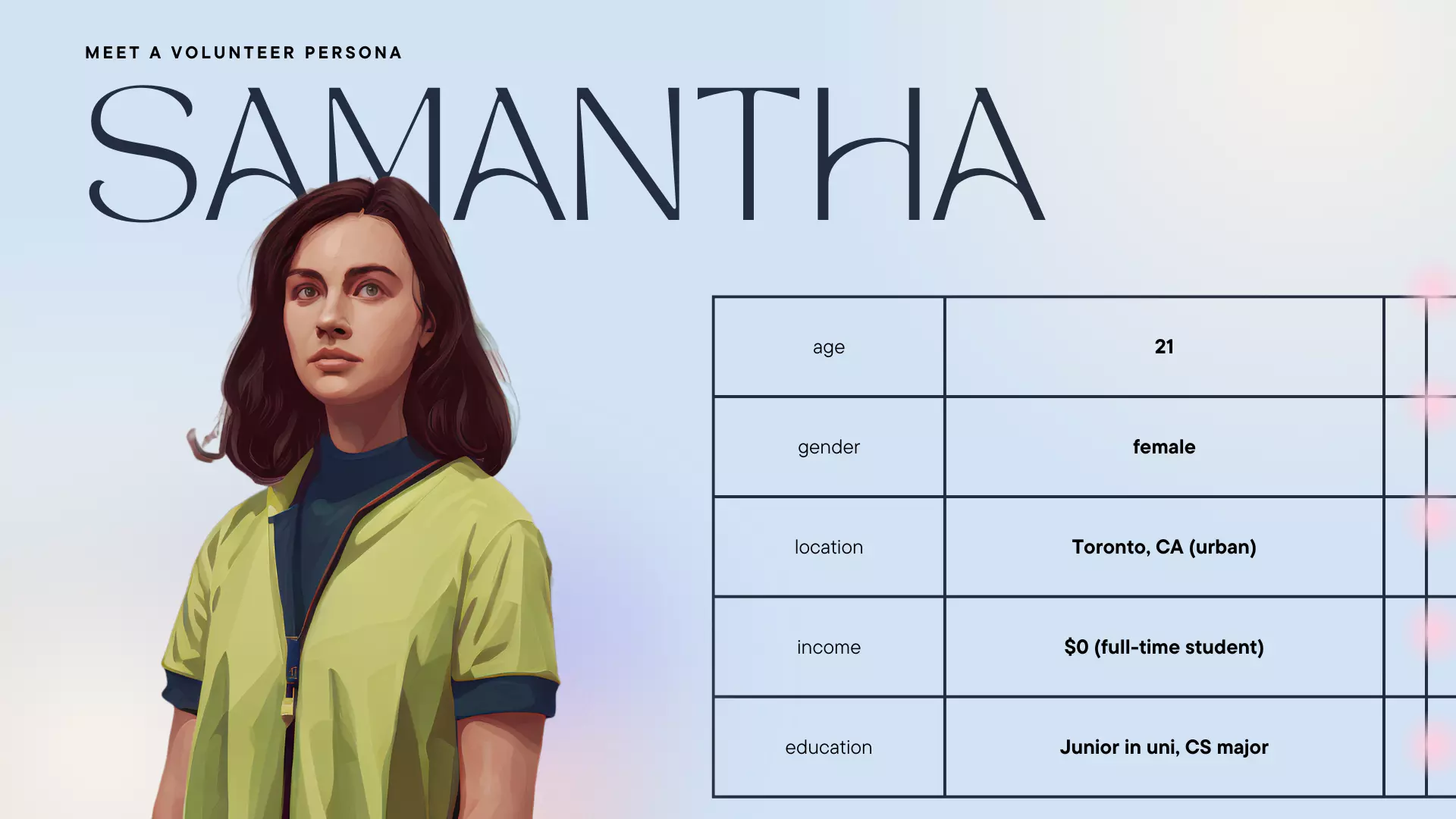 Samantha is a fictionalized representation of some signees on Change.org petitions against online proctored exams during the height of the COVID-19 pandemic.
Samantha is a 21-year-old woman from Toronto, Canada. She is currently a junior in uni studying computer science. She strongly believes in the importance of protecting individual privacy and has a strong sense of social responsibility, driving her to make positive changes.
She may have a hard time finding chances to volunteer on privacy issues as many people still view privacy and digital rights as "first-world problems", which upsets her because privacy-focused orgs are few. Additionally, she might have a difficult time managing her volunteer duties alongside her academic and personal commitments.
She is passionate about defending social justice, safeguarding personal information and exploring web3 technology. She has amazing web development skills and hopes to use them to make a difference in the world by volunteering her time to causes she cares deeply about, such as privacy and technology.
Advocating for Samantha>
Advocating for Samantha #
For a privacy-focused nonprofit, Samantha's motivations, interests, challenges and pain points could be used to create marketing materials and engagement strategies. We can consider:
Flexible volunteer opportunities that can be done remotely
Lighter volunteer work that is not a hurdle to her academics; and
A network of like-minded people and resources
In addition, the nonprofit could consider leveraging her dev skills and her uni studies to support the cause. This can include:
Working on educational materials on privacy issues
Aiding in advocacy research as a uni student
Develop, modify, and optimize the org website
Overall, Samantha is a devoted and enthusiastic volunteer who is intent on achieving a better, private future. If only nonprofits can understand her ambitions, struggles, needs, hobbies, and objectives, they will be able to create specific and successful strategies to connect with this essential demographic that shares similarities with Samantha.
Refining the email>
Refining the email #
Now that we know what we can offer and how we can speak to Samantha, we can now refine our email for our target audiences that are like Samantha.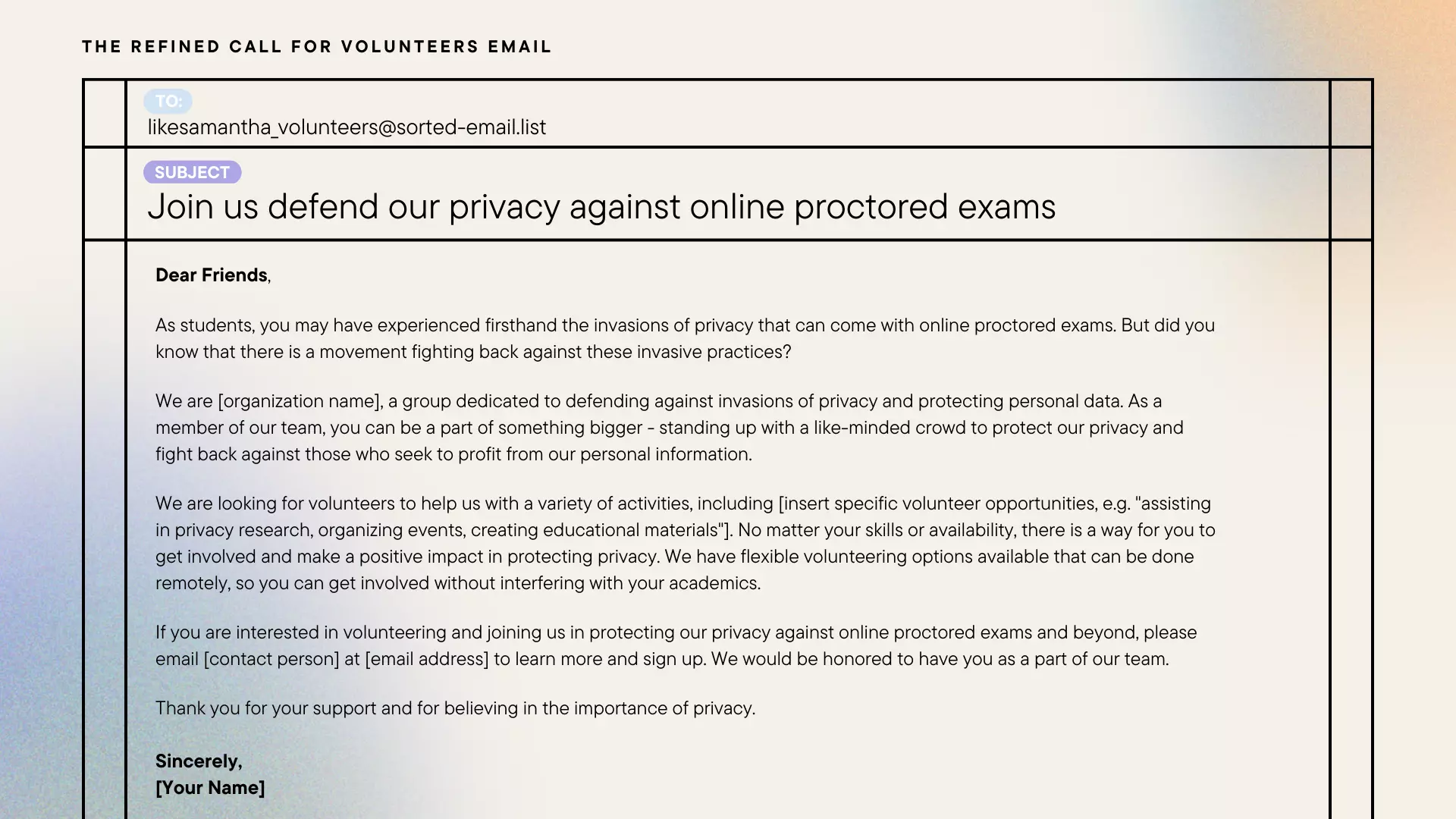 In comparison to the generic, cookie-cutter email, our refined email has:
TARGETED MESSAGING
It is more likely to resonate with the people you want to reach and be seen as interesting and relevant by them. The email targets students who may have encountered firsthand invasions of privacy during proctored online examinations, a topic they care about and want to help solve.
INCREASED RELEVANCE
By highlighting an immediate privacy issue (in 2020 at least), we can make our volunteer requests more impactful and timely. This will make it easier for people to relate to the cause, and ultimately lead to higher engagement and more positive responses. Letting people know that their help is needed to solve a specific problem is also key in getting them involved.
MORE EFFECTIVE CALL-TO-ACTION
Reiterating what they can do to help clears the reason why the audience should respond and what happens if they do. In our case, it's about joining to protect privacy against online proctored exams and beyond.
MORE CONFIDENCE
When the email is tailored to address a specific problem, it shows that the organization cares about the cause, understands the problem, and is taking active steps to solve it. This further builds trust and credibility with our audience.
With a personalized and focused email, we can get more people to open and click through our message, as well as increase the effectiveness of any call-to-action. It can help create an engaging experience, a feeling of urgency, and trust in our audience.
Beyond emails>
Beyond emails #
Personas are a powerful tool for organizations to understand and engage with their target audience more effectively. It helps them emotionally connect to their audiences better. Even beyond emails.
In the case of Samantha, we have yet to explore her interests in web3 in our marketing efforts. We don't know yet where she usually hangs online, and her preferred social media to reach her better. We also don't know what other topics she follows and the types and formats of content (e.g. blog posts, videos, tweets) she consumes. We also don't know yet the influencers and the brands she likes to see if we can forge partnerships with them.
This is why creating personas is an iterative process that requires ongoing research and analysis.